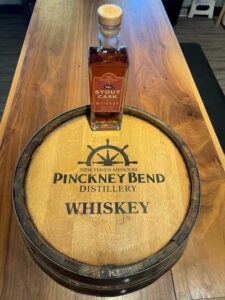 The long wait is almost over! We are so excited to release the 375ml of our Stout Cask Whiskey, we decided it needed a pre-release event on March 12th, 2022. We're glad you agree. Space is limited, so make sure you reserve your time frame for this one-of-a-kind tasting immediately.
The Stout Whiskey Tasting Experience
Enjoy a 45-minute tasting in our rarely seen barrel warehouse. We'll guide you through the whiskey's journey to bottle. Enjoy a sample of Corn Whiskey, Rested Whiskey, Stout Beer from 2nd Shift Brewery, and Stout Cask Whiskey served in souvenir glass.
Receive a commemorative T-shirt celebrating Stout Whiskey moving into a larger 375ml bottle with a new design.
A signed bottle of our 375ml Stout Cask Whiskey. Plus the ability to buy up to 6 more bottles the same day.
The Specifics:
Please check in at the gift shop 15 minutes before your time slot in the designated area. Time slots will be limited to 20 per person. You will be escorted through our Stillhouse to the barrel house. Additional bottles of Stout available to purchase after your experience in the stillhouse only. Other tasting experiences and gift shop available.

The Boring Stuff:
This is a presale event only, tickets must be purchased in advance, online only. The stout cask whikey will not be released in the tasting room until later in March. Presale no-shows will have until April 30th to collect their shirts and signed bottles. No refunds. Handicap access available upon request. Barrel House temperature fluctuates, so be prepared for both warm and cool conditions. 21+ only, we will check IDs upon check-in.
BUY TICKETS