When you want to know what Whiskey tasted like before prohibition, you have to also talk about the corn grown then. And by talk about, we mean learn every.intimate.detail.ever. This program is the effort of decades of time, energy and research of small, but dedicated group of individuals. We release one varietal per year, in limited quantity. We work with local farmers to propagate and grow these corn varieties and then grind, distill and age. We make only what the crop yields so once gone, there are no guarantees it will return.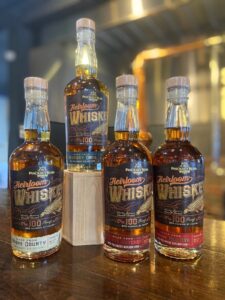 This year's Heirloom Whiskey is hitting the shelves this fall, but we're suckers for sneak peek. Join us on Sept 16, 2023, for Heirloom Wapsie Valley Pre-Release Sampling Experience where you can look into our whiskey vault and taste past heirlooms no longer available, try future heirlooms still in barrel and get the first taste of this year's Heirloom – Wapsie Valley! Space is extremely limited – only 25 people per time slot, so reserve your spot today!
Heirloom Tasting Experience – What is it?
Enjoy a 60 Minute tasting experience in our barrel storage area with an exclusive tour of our not-often seen production areas lead by Managing Partners Keith Meyer and Tara Steffens. Your experience will contain 7 whiskey samples including our Flagship Whiskey, previous bottled Heirlooms and straight-from-the-barrel samples of future Heirlooms. You will also have the ability to buy up to 6 bottles of the Heirloom Wapsie Valley before it goes on sale to the public and the opportunity to purchase some of our vaulted Heirloom Whiskies no longer on sale. Plus, we will talk a lot about corn and who doesn't love THAT!
• 7 Tasting Samples with a guided tasting from our Managing Partners
• Light snacks provided during tasting
• Souvenir Tasting Glass & additional gift
• Presale with option to buy up to 6 bottles of Heirloom Whiskey: Wapsie Valley before it goes on sale to the public.
Cost Per Person: $65
Time Slots Available
10:00am (check in starts at 915am)
1130am (check in starts at 1045pm)
1pm (check in starts at 1215pm)
230pm (check in starts at 145pm)
4pm (check in starts at 315pm)
Additional Day-Of Information:
On the Day of Event, you are required to check in to the Patio/Gift Shop 10 minutes prior to your time slot (look for the Event Check In Sign). You can check in up to 45 Minutes prior to the start of your time slot. Other tasting experiences and Gift Shop available from 10 to 5pm. Check in under the name of the person who purchased the tickets, but an ID is required for every ticket purchased. Please have your IDs ready.
Parking is Street parking only. As we are part of an active community, please be aware you may have to walk around the block to reach us. Please obey all one-way streets and no parking directions. No outside alcohol or beverages are allowed in production spaces, water will be provided during the sampling event. With the limited space in our production facility, tasting experiences are standing. If you have trouble standing for 60 minutes, please contact us in advance.
The Boring Bits
This is a presale event only, tickets MUST be purchased in advance, online only. The Heirloom Whiskey Experience is a non-refundable event. Our Barrel Warehouse temperatures fluctuate, so be prepared for both warm and cool conditions. 21+ ONLY allowed in our manufacturing area, we will check all IDs upon check-in. Due to the nature of our production facility and the area of our private tastings, no children or animals are allowed. Handicap access is available upon request only. Please contact tara@pinckneybend.com with any ADA needs within 24 Hours of your time slot. The presale event includes the option to purchase up to 6 bottles of Wapsie Valley and any other bottled heirlooms as their availability warrants
Get Your Tickets Here: