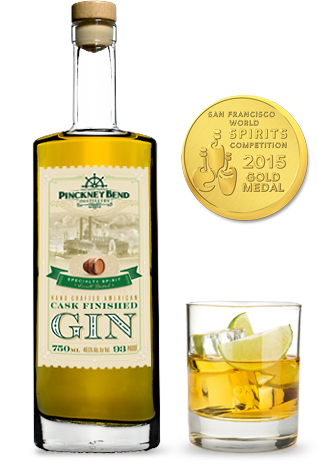 Cask Finished Gin
Pioneered by the Dutch 400 years ago, this old 'cask finished' style of gin has become new again.
Not All Gins Are Created Equal
Our Award-winning American Gin is finished in our gently used Award-winning Rested American Whiskey barrels, which introduces a layer of complex wood flavors, a subtle vanilla infused sweetness and the spice of  our delicious whiskey.
You Will Taste the Difference
This specialty spirit is a stunning goldenrod hue with a bright aroma of spice, coriander and vanilla. The taste is round and balanced throughout, evoking notes of a perfect dirty martini. A savory experience till the end, creamy vanilla, violet and a warming oak note combine with a mellow juniper hint.
Wine Enthusiast Awarded 89 Points in 2018 (well recommended/good value)
Award Winning Spirit
This gin has actually earned two gold medals at the San Francisco World Spirits Competition — the base American Gin in 2012 and the Cask Finished Gin itself in 2015.
Given a Gold Medal by The Gin is In 2015
Given a Bronze Medal by The Jefferson Cup Invitational 2016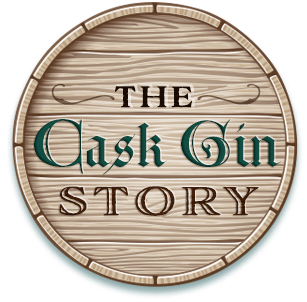 A Barrel-Finished History
Starting around the 1600's, a steady supply of Dutch gin (jenever) stored in wooden barrels was transported from the Netherlands to eager British drinkers. This trend lasted until the early-19th century. Crossing the English Channel from distilleries in Holland to markets in London, gin could spend months in contact with wood, where it picked up both a goldenrod hue and subtle, rich flavors. This old 'cask finished' style of gin has become new again.
How to Enjoy Cask Finished Gin
We personally think a light shake over ice and a stuffed olive is all you need to highlight the complex layers of this gin. We also know some people enjoy lighter fare. Our staff has developed several recipes, some that use our Cask Finished Gin as the base, and some that use it as a secondary ingredient.
What Our Customers Are Saying
…The palate is round and nicely balanced throughout, ending with a dry, comforting warmth. At the beginning juniper and citrus, all leading up to a creamy vanilla, violet and lavender note mid palate. The alcohol begins to warm a bit, as a wood influence creaminess mediates brisk juniper and the slightest hint of sweet licorice and angelica stalk. The finish is medium long with a warm, young whiskey character with residual juniper and lemon. Lovely from start to finish.
To read Aaron's full review of our cask gin, click here.
Subscribe to our Newsletter
Find out the latest on what's happening at the distillery (and we'll never sell your email!)