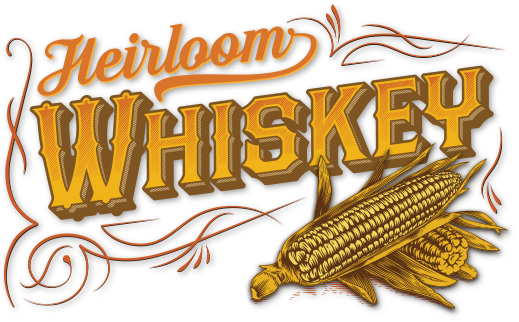 The Heirloom Whiskey Initiative
Pinckney Bend Distillery is NOW producing field-to-glass heirloom whiskey made from rare, historically important heirloom corn varieties.
History In A Glass: Why Heirloom?
Whiskey The Way it Was
The open pollinated corn varieties used by our ancestors to make whiskey are disappearing, and when they are gone they will be gone forever. What follows is a detailed description of a program by which Pinckney Bend Distillery will produce whiskey 'field to glass' using rare and hard-to-find heirloom varieties of corn. The heirloom varieties we select will have been historically associated with making whiskey, and to the degree possible, grown in our region prior to the introduction of hybrids in the 1930's. Pinckney Bend Distillery will:
Research varieties and acquire seed
Propagate as necessary at a downtown test plot
Contract with local farmers to grow grain
Mill grain and ferment mash
Distill, age in Missouri oak; bottle and market whiskey
What is Heirloom Corn?
There is no established date for when a corn variety becomes heirloom. Some varieties such as blue corn have been grown and used by Native Americans for centuries. Others were developed as late as the early 20th century. Heirloom varieties all have three things in common. They are; 1. open pollinated, 2. no longer grown on a commercial scale, and 3. genetically quite different from today's hybrid and GMO corns. Heirloom corn varieties are often (but not always) associated with specific geographic areas. They are also associated with specific characteristics.
In the 19th Century pioneers grew the corn that they brought with them. Over time some varieties performed better than others, and farmers in a given area often came to grow the same varieties as their neighbors. However, every farmer selected seed corn from his own fields for planting the following year. In this respect, every farmer became a hybridizer, and there is often considerable variability within specific heirloom varieties.
Heirloom Corn Varieties & Sources
Dr. Brian Campbell, author of "Closest to Everlastin'": Ozark Agricultural Biodiversity and Subsistence Traditions, is a Cultural Anthropologist. He has studied the Ozark Region extensively, and has been a valuable resource in helping us identify heirloom varieties that were commonly grown. The three heirlooms we intend to start with are:
Tennessee Red Cob (propagation plot)
Hickory Cane White Dent (propagation plot)
Pencil Cob White (one acre production field
Downtown Test Plots
Propagation and test plot sites will be located on adjoining vacant lots on Front Street, only 100 feet from the distillery. This is excellent river bottom ground, which has not been cropped in more than a century.
Two 12′ x 12′ plots will be established, providing seed for the following year's one-acre production fields. With optimized fertility, moisture, weed and insect damage control, these plots will each produce about 1.5–2 bushels of shelled corn. This is enough seed corn for planting, plus sufficient spare grain for several 10-gallon test batches of mash.
Propagation plots will be managed, planted and maintained Master Gardner Greg Newell.
One-Acre Production Fields
Production fields will be grown in partnership with a local farmer who has the land, equipment and experience necessary to grow open pollinated corn varieties. We will not be seeking organic certification for this whiskey.
One acre of heirloom corn should produce from 70–80 bushels of shelled corn (compared to 140 for GMO seed). The same production variables apply to production fields, with the addition of deer and raccoon damage.
New Equipment Required
Producing heirloom whiskey requires mashing, fermenting and large volume, first cut distilling capabilities that Pinckney Bend Distillery does not currently have. While our primary goal here is to produce commercial quantities of heirloom corn whiskey, we also intend to keep this new equipment busy producing a Missouri malt whiskey from barley. Other specialty grains we plan to experiment with include wheat, oats, millet and quinoa. In short, the new equipment opens a whole new world of possibilities.

Press

Feast Magazine
How Two Missouri Distillers Have Resurrected Historic Varieties of Corn
Punch Drink
Is Heritage Corn Craft Whiskey's Final Frontier?
Missouri Botanical Gardens
Collection Connection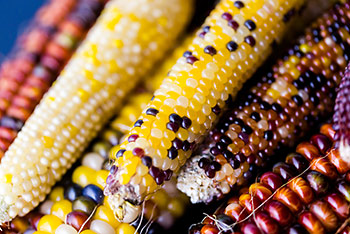 Timeframe

October 2014
Prepare test plots, acquire seed, and identify growers. Begin pre-selling three bottle sets and offering Heirloom Corn Whiskey Notes.
January 2015
Purchase and install new equipment. Begin tests using commercially available corn.
May 2015
Plant test plots and production field.
October 2015
Harvest corn at production plot and begin making Pencil Cob heirloom whiskey.
December 2015
Purchase barrels and begin aging first heirloom batch.
Spring 2016
Begin the process again with another heirloom variety.
Fall 2016
Release first Pinckney Bend Heirloom Whiskey.
Fall 2017
Pencil Cobb Heirloom Whiskey Release