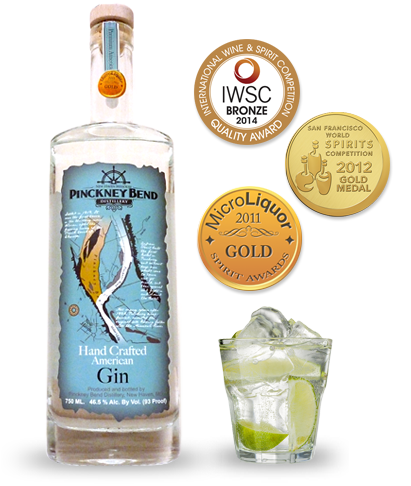 Hand Crafted American Gin
The secret to our distinctive flavor? We handle our botanicals separately. You will taste the difference.
Distilled From
American Grain
The nine botanicals used in our gin are all organic, and American-sourced. They include standard gin ingredients such as juniper berries, coriander seeds, orris, angelica, and licorice root, but also contain lavender and three different kinds of dried citrus.
Hand Crafted
in Small Batches
Pinckney Bend Gin is made in 60-gallon batches with each botanical handled separately. Some are macerated and distilled, while others are suspended in the vapor column. The result is a premium quality American gin with nuanced layers of flavor and aromatics.
Winner of Multiple International Medals
Pinckney Bend Gin has won gold at the San Francisco International Spirits Competition and the Micro Liquor Spirit Awards in Las Angeles. Our gin was also awarded a bronze at the most prestigious competition on the planet, the International Wine & Spirits Competition in London.
Where to Buy
Distributors can be found on our "Where to Buy" page. If you happen to be in our neck of the woods, you can purchase at our distillery and visit our tasting room!
---
What Our Customers Are Saying
Don't just take it from us, let our customers do the talking!
"We stopped in for a tasting/tour and got so much more." Becca H.
"I am a gin snob and proud of this! If you had told me a year ago that I would be extolling the virtues of a gin produced deep in Daniel Boone country I would have pronounced you crazy. However, I have become a fan of a Missouri gin produced by Pinckney Bend Distillery…"
Nerida
"Mixing is where Pinckney Bend I think did some of its finest work… I enjoyed it in a Tom Collins and thought that in a Gimlet it did some of its nicest work, taking the edge off of the Rose's lime juice."
Aaron
Subscribe to our Newsletter
Find out the latest on what's happening at the distillery (and we'll never sell your email!)
Sign Me Up
Our Tasting Room
is Open!
Visit our distillery in New Haven and sample some outstanding spirits. Also, be the first to taste upcoming products.
Hours: Open daily, Noon to 6 p.m.
Our Location: 1101 Miller St. New Haven, MO