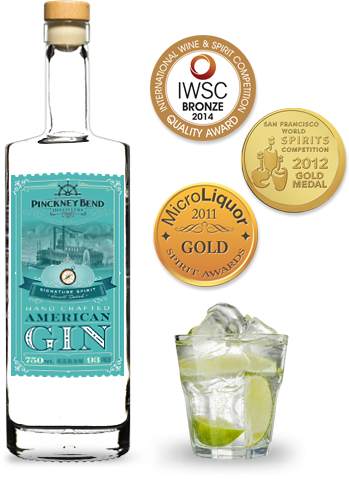 Hand Crafted
American Gin
The secret to our distinctive flavor? We handle our botanicals separately. Why don't you come down for a Gintervention. You will taste the difference.
Not All Gins Are Created Equal
Pinckney Bend Gin is made in small batches with botanicals handled separately. By Small batches we mean on 5-gallon stills. Some are macerated and distilled, while others are suspended in the vapor column. The botanicals used in our gin include 'standard' gin ingredients such as juniper, coriander, orris and angelica, but include more nuanced flavors of cardamom, lavender and blended citrus. The result is a premium-quality American gin with balanced layers of flavor and aromatics.
You Will Taste The Difference
Our gin aroma leads with a traditional juniper-nose that gives way to a sweet and soft aromatic. It has a slight front-heat that ends with a crisp, light citrus note. The body isn't oily or overly-junipered, but has a layered depth of flavor with a balanced, fresh taste. No…we promise. It's ok to like gin again.
Award-Winning Spirit
Pinckney Bend Gin has won gold at the San Francisco International Spirits Competition and the Micro Liquor Spirit Awards in Las Angeles. Our gin was also awarded a bronze at  the International Wine & Spirits Competition in London.In fact, this flagship spirit is the reason we kept going with this 'distilling' thing.
Named Missouri's "Best Distilled Spirit" by Playboy.com's "Best Distilled Spirit in All 50 States" — 2015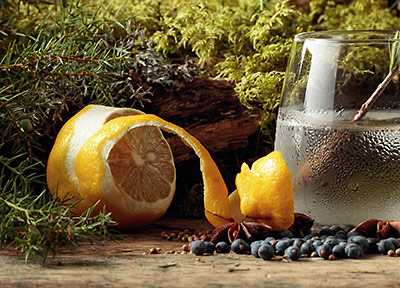 Uniquely American
Gin is a divisive drink. It has been for centuries. Before there was gin, there was jenever. How this Dutch invention became English is a story of war and empire. Responsible for an early booze-filled crisis, the botanical spirit was once considered the scourge of society. American gins popped up another few hundred years later, using wider and varied botanicals, often with local or regional fruits and plants. Pinckney Bend American Gin tips its hat to those that came before us while creating a high-proof contemporary gin with a citrus forward counterpoint. One taste will make you a believer. In fact, we've come to call how we change minds of non gin-drinkers a Gintervention.
How to Enjoy American Gin
Stunning on the rocks and uniquely satisfying in a Collins, mixing is where this gin shines. Don't be afraid to make a twist on a classic or let your imagination take you on a botanical journey.
Subscribe to our Newsletter
Find out the latest on what's happening at the distillery (and we'll never sell your email!)