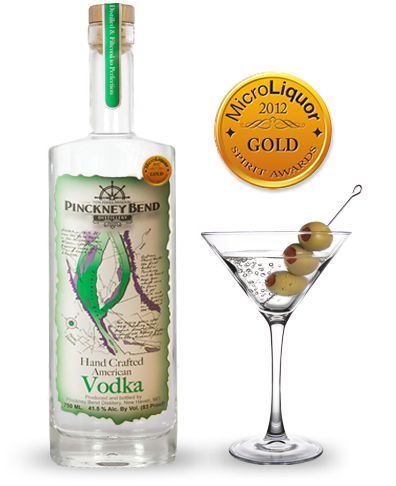 Three-Grain American Vodka
Our vodka is distilled multiple times; wheat in a column still, barley and rye in a pot still. The result: A vodka of exceedingly high purity and unique character.
Distilled From
American Grain
Pinckney Bend Vodka is wheat, corn and rye. The wheat component is organic. Along with multiple distillations, this vodka is filtered through multiple layers of activated charcoal.
Hand Crafted
in Small Batches
The use of different distillation techniques for each grain component gives Pinckney Bend Vodka a velvety smooth texture, uniquely subtle flavor profile, and a long, clean finish.
Gold Medal Winner
Our Three-Grain American Vodka won gold at the 2012 Micro Liquor Awards, which included 263 entrants from around the world.
Where to Buy
Distributors can be found on our "Where to Buy" page. If you happen to be in our neck of the woods, you can purchase at our distillery and visit our tasting room!
---
What Our Customers Are Saying
Don't just take it from us, let our customers do the talking!
"Pinckney Bend Vodka has a luscious mouth-feel, and is exceedingly smooth on the palate." Eli
"When they say their spirits are hand crafted they are serious; everything down to the label is placed by hand. What a fun group of people!"
Laura C., Columbia
"This place is exactly what I'd have wanted with a visit to a small distillery." Michael H., Chicago
Subscribe to our Newsletter
Find out the latest on what's happening at the distillery (and we'll never sell your email!)
Sign Me Up
Our Tasting Room
is Open!
Visit our distillery in New Haven and sample some outstanding spirits. Also, be the first to taste upcoming products.
Hours: Open daily, Noon to 6 p.m.
Our Location: 1101 Miller St. New Haven, MO