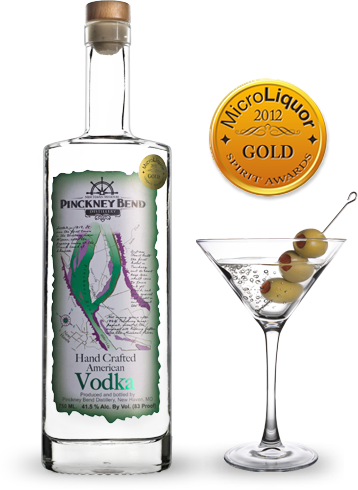 American Vodka
Moving beyond a typical column distillation, we wanted to make a vodka that was more than just 'without distinct character'. By using multiple methods and dutifully monitoring the process, we proved more is better.
Silver Medal Winner!
2018 San Francisco World Spirits Competition
94 Points!
Scored 94 points with Wine Enthusiast 2018.
Distilled in Small Batches
Most Vodkas use a single technique. To get a fuller taste, we expanded the traditional distillation process. Started in our pot still, then into our copper column still, our vodka is distilled multiple times in multiple ways to achieve an extremely smooth spirit with distinct character.
Reader's Choice 10 Best Vodka Distilleries 2016
Reader's Choice 10 Best Vodka Distilleries 2017
You Will Taste The Difference
The result of corn base and multi-step process, our vodka has a velvety smooth texture, uniquely subtle flavor profile, and a long, clean finish. More fuller-flavored than traditional vodkas, it stands up to even the boldest of cocktails.
Liquor.com 8 New Vodkas You Should Try Right Now
Award-Wining Spirit
Our Three-Grain American Vodka won gold at the 2012 Micro Liquor Awards, which included 263 entrants from around the world.
Wine Enthusiast has awarded our vodka a score of 94 points! Learn More
SILVER MEDAL WINNER: 2018 San Francisco World Spirits Competition
DOWNLOAD
» The American Vodka Sales Sheet Here:
PB-SS-vodka
How To Enjoy Our American Vodka
With it's clean finish and ultra-smooth flavor, it's hard to not just shake it over ice and call it a day. The flavor profile also lends itself to such interesting combinations it's just as hard to not break out a shaker. However you enjoy it, our vodka will be an excellent choice.
What Our Customers Are Saying
Don't just take it from us, let our customers do the talking!
"Pinckney Bend Vodka has a luscious mouth-feel, and is exceedingly smooth on the palate."
"When they say their spirits are hand crafted they are serious; everything down to the label is placed by hand. What a fun group of people!"
Subscribe to our Newsletter
Find out the latest on what's happening at the distillery (and we'll never sell your email!)