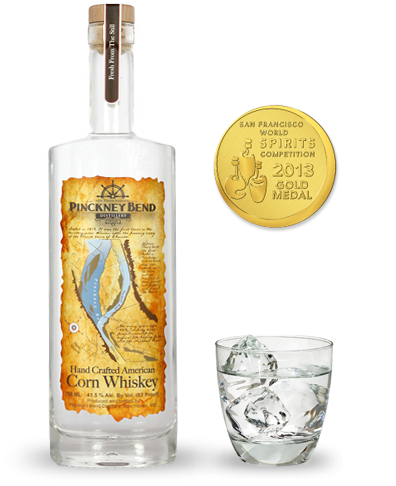 American Corn Whiskey
Clear and formidable, our corn whiskey is lively and stays true to its historic, unconstrained roots.
Pot Distilled From
American Grain
Pinckney Bend Corn Whiskey is made from American grain; 95% corn and 5% rye. It comes off the still 160 proof and is brought down to bottling strength with water from 1200 feet deep Ozark Plateau limestone aquafir.
Hand Crafted
in Small Batches
Never made in bulk quantities, Pinckney Bend Corn Whiskey remains true to its heritage. This whiskey is an excellent example of what was produced by skilled distillers, sold by reputable merchants and consumed by working people in the early and mid 19th century.
International
Gold Medal Winner
Pinckney Bend Corn Whiskey was awarded a Gold medal at the 2013 San Francisco International Wine & Spirits Competition. Pinckney Bend was the only American distillery to receive a gold medal in the unaged whiskey category.
Where to Buy
Distributors can be found on our "Where to Buy" page. If you happen to be in our neck of the woods, you can purchase at our distillery and visit our tasting room!
---
What Our Customers Are Saying
Don't just take it from us, let our customers do the talking!
"A hidden gem in mid-Missouri. Highly recommend."
Frank V., St. Louis
"This (PB Corn Whiskey) has an interesting texture: the flavor swings between plain, clean alcohol notes and sweeter ones of corn. The finish gradually builds and is comforting, long and warm. At the very end of the finish, there's a refreshing, dry bitterness that reminds me of black coffee; there's no sickly, cloying corn notes here!…"
Mrs. B
"Fun and educational…Had a great tour, enjoyed some samples, learned a lot about distilling…" Ellenkay
Subscribe to our Newsletter
Find out the latest on what's happening at the distillery (and we'll never sell your email!)
Sign Me Up
Our Tasting Room
is Open!
Visit our distillery in New Haven and sample some outstanding spirits. Also, be the first to taste upcoming products.
Hours: Open daily, Noon to 6 p.m.
Our Location: 1101 Miller St. New Haven, MO