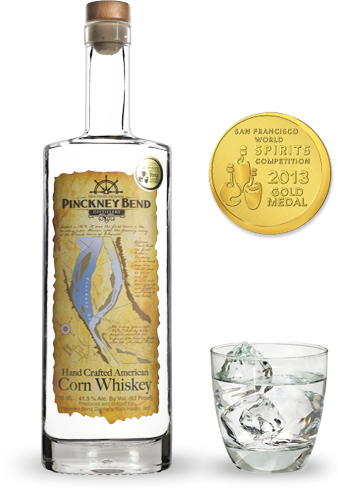 American Corn Whiskey
Clear and formidable, our corn whiskey is lively and stays true to its historic, unconstrained roots.
Pot Distilled In Small Batches
Pinckney Bend Corn Whiskey is made from locally-grown corn. It's pot distilled in small batches and brought down to bottling strength with water from 1200 feet deep Ozark Plateau limestone aquafir.  Never made in bulk quantities, Pinckney Bend Corn Whiskey remains true to its heritage. This whiskey is an excellent example of what was produced by skilled distillers, sold by reputable merchants and consumed by working people in the early and mid 19th century.
You Will Taste The Difference
 Pinckney Bend Corn Whiskey exudes a pure, fresh aroma. Far from a 'moonshine', this full cut clear spirit is surprisingly smooth.  The raw nose quality is far more subtle on the tongue, displaying a clean, crisp corn note. Short finish makes this an ideal 'bartenders' whiskey who's flavor profile can easily be adapted.
Award-Winning Spirit
Pinckney Bend Corn Whiskey was awarded a Gold medal at the 2013 San Francisco International Wine & Spirits Competition. Pinckney Bend was the only American distillery to receive a gold medal in the unaged whiskey category.
How To Enjoy Corn Whiskey
Few people drink this spirit straight, but as a replacement for Vodka, Tequilla or White Rum the possibilities are endless. Most of our staff uses this in place of vodka for many drinks and we have created many new classics with this unique spirit.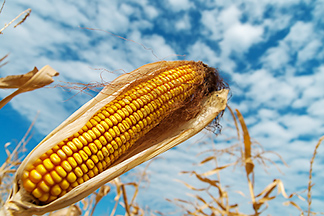 Not Your Grandfather's Moonshine
White whiskey, corn liquor, white dog. By another name, unfinished whiskey. Currently, to put it bluntly, 'moonshine' is simply illegally distilled alcohol. Moonshine is illegal and because it's illegal there are no standards for making it. Before 1862, when Congress passed a wartime excise tax on spirits that became a permanent source of revenue, there was plenty of unaged corn whiskey being made but no such thing as moonshine. Those who stayed on the wrong side of the law, took a different path and it wasn't too kind on the quality of the product. A hint of it's character can be seen in its many colorful nicknames – white dog, white lightening, popskull, mule kick. Many see the surge in white whiskey as destroying the 'moonshine outlaw culture". We debate that we are reclaiming and even older culture of small-scale craft distilling which was practice pre Civil War. Back then, distilling was done on a small scale and practiced locally, returning to using good quality, local corn with no shortcuts, to make as good as a spirit as possible.
What Our Customers Are Saying
Don't just take it from us, let our customers do the talking!
"A hidden gem in mid-Missouri. Highly recommend."
"This (PB Corn Whiskey) has an interesting texture: the flavor swings between plain, clean alcohol notes and sweeter ones of corn. The finish gradually builds and is comforting, long and warm. At the very end of the finish, there's a refreshing, dry bitterness that reminds me of black coffee; there's no sickly, cloying corn notes here!…"
"Fun and educational…Had a great tour, enjoyed some samples, learned a lot about distilling…"
Subscribe to our Newsletter
Find out the latest on what's happening at the distillery (and we'll never sell your email!)