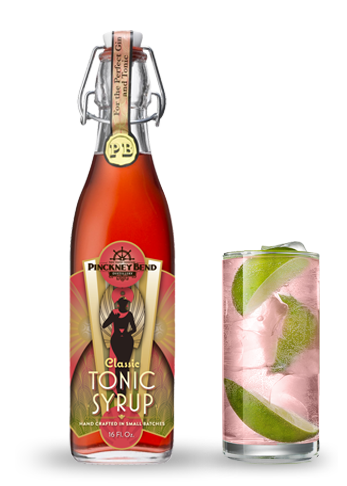 Pinckney Bend Classic Tonic Syrup
Fresher, bolder and far more complex than ordinary tonic water, one taste will make you a believer.
The Perfect Gin & Tonic
Pinckney Bend Tonic Syrup is unique. It is fresher, bolder and more complex than commercial tonic water. It is also the only tonic syrup on the planet developed specifically to harmonize with the flavor profile of a companion gin. It mixes well with any high quality gin, but it's outstanding with Pinckney Bend American Gin.
History in a Glass
The gin & tonic cocktail became a popular drink late in the 19th century as a way to make the daily dose of bitter quinine powder more palatable. Quinine powder is the only known prophylaxis for malaria symptoms. Barkeeps in British officer's clubs from Cairo to Rangoon had their own recipe, and it became known generically as 'tonic'. Pinckney Bend Classic Tonic Syrup reaches back in time to connect with these historic roots.
How To Enjoy Tonic Syrup
Well, clearly, the best way is to create the Perfect Gin and Tonic! However, the limits of this concentrated flavor have almost no limits! Put a drop in your champagne, replace your simple syrup for something more flavorful or mix with other spirits to create endless cocktails. We do!
What Our Customers Are Saying
Don't just take it from us, let our customers do the talking!
"We just got pickier about our tonic. The newly released tonic syrup by local distillery Pinckney Bend turns a gin and tonic on its head."
"…The floral/herbal notes add a nice, fresh, and not too overwhelmingly tonic syrup nor tonic-like flavor to your G&T. Refreshing, still a bit citrusy in the back of the palate, but all in all, a nice tonic syrup that I recommend, and strongly recommend if you've got some of their gin on hand."
"You'll never go back to "normal" tonic water after having a gin and tonic made with this."
Subscribe to our Newsletter
Find out the latest on what's happening at the distillery (and we'll never sell your email!)