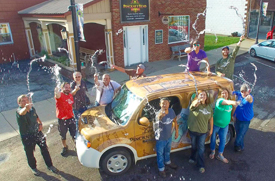 Our Mission
We are driven by friendship, passion and authenticity. We strive to celebrate the history and traditions of those who came before us. We know genuine bonds create remarkable results. From the ingredients we use, to the team members we hire, these core values and unbridled atmosphere are at the heart of every decision. Our goal remains simple, to produce premium quality, hand-crafted spirits worthy of their heritage, one small batch at a time.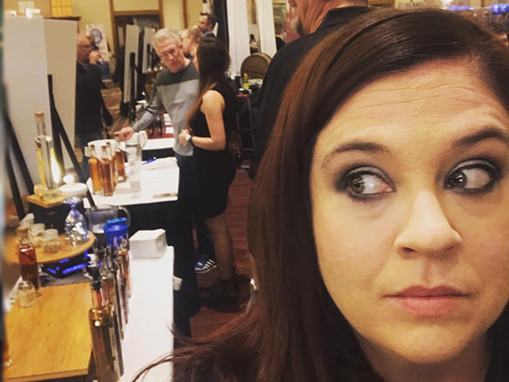 Tara Steffens
Chief Operating Officer/Cocktail Wizard/Partner
Tara is an '03 graduate from University of Missouri-Columbia Journalism school. She has extensive experience in marketing and visual communication, as well as event planning, public relations and accounting. She has worked for several international businesses and ad campaigns. In addition, she has over 17 years bartending experience. She's also probably had more gin than anyone we know. In 2014, she won the Washington Chamber's Outstanding Young Professional Award, in 2015 she won Washington Chamber's "Best Website" and in 2016 she won the New Haven Area Chamber's Volunteer of the Year award. She hasn't been slacking off since then, she's was the first Female President of the Missouri's Craft Distiller's Guild in 2021, as well as holding several board positions for many non-for-profits in the area. She was made a partner in Jan 2022.
Break the Ice with Tara
Tara, our fearless leader, is the guiding force and glue that binds our team. As COO of Pinckney Bend, she does everything from managing supplies to managing expectations. One thing she would like to accomplish is to make the Midwest "Pinckney Bend Country". That, or pet ALL the dogs, it's a toss up.
Her 'Successful Boss Lady' character is derived from her exact personality as a successful boss lady. Her success comes from hard work, passion and the loudest laugh known to man. Her fashion sense is derived from what you might see at a Rec softball league after-party where she changes out of her dirty  uniform shirt into a clean one. She loves cooking, dancing, and gardening in her little free time. Fun facts: She is Co-founder of the Riverside Players Theatre Group in Franklin County and has appeared in or worked on over 120 productions across 3 states.
Keith Meyer
Head Gin Distiller/Chief Compliance Officer/Parnter
Upon finishing his degree in Broadcast Media at the University of Central Missouri, Keith worked in radio before discovering his passion for spirits. Keith brings years of large-batch cocktail experience as well has a refined palette. He is involved in the developing of new flavors and day-to-day distilling. He also has an eye for art and detail and has become an instrumental voice of reason on many occasions. Keith was tasked with 'finding people' years ago and was the lead in assembling the team we have to today. He was made a partner in 2022.
Break the Ice with Keith
Keith is the longest standing employee of the distillery, and it's easy to see why. He is our Head Gin Distiller and has made more gin then he ever thought humanly possible. When not guiding tastings, you will find him macerating all over the place (we promise it's science).
Keith's self-absorbed, know-it-all character is a testament to his love of Art & Science, and he will gladly share (overshare?) his knowledge with you – anytime, anywhere. He is also a huge animal lover and nature lover, having spent time in Auckland, New Zealand. If he wasn't working here, he would probably work at a zoo. Some say he already does.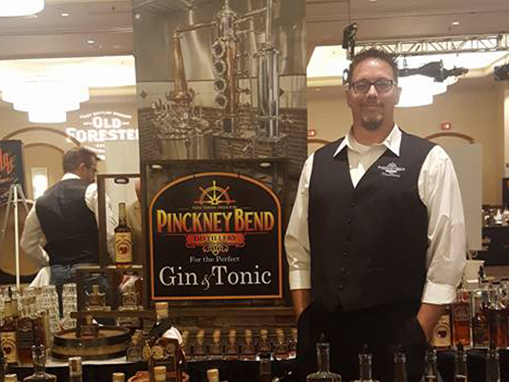 Greg Brinker
Lead Distillery & Canning Productions
Greg brings a gregarious and outgoing attitude to our team, which is a really nice way to say he's loud. His strong work ethic and 18 years of production experience have proven to be an  invaluable asset to our growing distillery production. Greg loves learning new things, but not as much as he loves dogs. Greg can often been found in the tasting room cracking jokes, at the bottler hand-corking all our bottles or reaching things from high shelves.
Break the Ice with Greg
Greg is our lead Canner and Bottler. He has been with Pinckney Bend since 2016 and has done everything from cleaning corn to final product packaging. You could say that Greg is the Alpha and Omega of our product production, but we won't ever say that. He describes himself as the loud, funny and colorful one. All of us agree with the first one.
Somewhere between all that processing and packaging, Greg has amassed more Swatch watches and 80's era BMX style bikes than any grown man should. His 80s persona isn't actually fake and all props used in his video are from his own home, much to the dismay of his amazing wife Rebecca. Greg does a lot for the distillery, namely he's our in-house verbal punching bag who laughs it off like a champion. Probably because he can't hear us from down here anyway.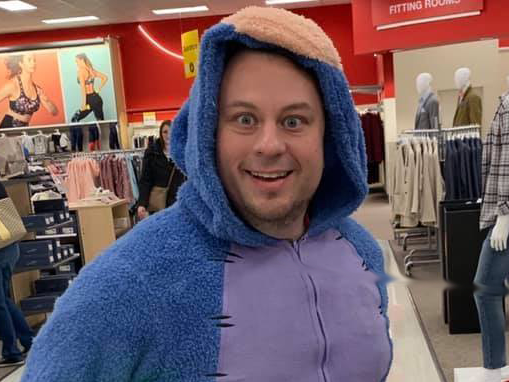 Mateo Flores
Distillery Brand Associate/Dad
Mateo is new to distilling, but is no stranger to the Pinckney Bend Team thanks to his sister Petra. Mateo has a Bachelors degree in Marketing and Management from Lindenwood University. He has a long history in bar service and a longer one in hospitality. Mateo is currently doing anything anyone asks him and is helping with the day-to-day operations. He"ll soon be working towards marketing and service initiatives.
Break the Ice with Mateo
Mateo is the proud father of a three children, who have cool names. He is the 'quiet' one of the group, but don't let that deceive you. He enjoys scary movies, making fun of his many little sisters (Tara, Briley and Petra) and hanging with friends. He also is a master of pulled pork and has elevated the pot luck lunch game here at Pinckney. His only weakness is Vegas Bombs.
Since he has only been around a short while, his tasting guide style would be described as uninformed, yet entertaining. Mateo's ideal tasting would include Salma Hayek, Halle Berry, Charlize Theron and Ryan Reynolds in bikinis. After that, not much else matters. One of his greatest accomplishments is the time he won a singing contest in college where his price was $100 and 100 chicken wings. But, if his wife asks, it's the kids.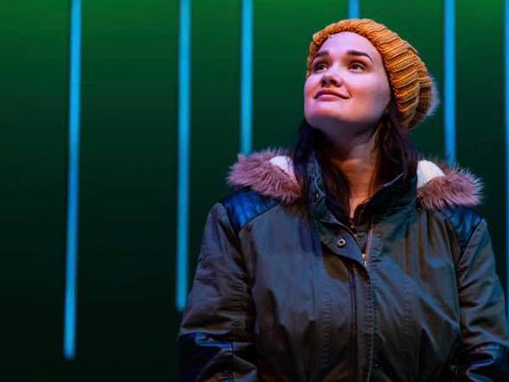 Briley Howell
Whiskey Stillman/Girl Friday
Briley is one of our newer distillers and one of our younger team members at Pinckney Bend.Briley graduate East Central College in 2016 with an AA in General Education and Art. She's been in the service industry since she's been old enough to have a job and loves interacting with customers. She loves art, skating and Elton John. She's also active in local community theatre scene and has never missed  a concert.
Break the Ice with Briley
Briley brings a much needed fresh perspective and youthful enthusiasm to our team. Which is the nice way to say she's much younger than most of us. She's always keeping us on our toes and keeping us in-the-know of all the things the young kids are doing. It sounds awful.
Her character of the young, angsty Madonna-like girl was inspired by her deeply ingrained rebellious side, her love for rolling skating and her ridiculous collection of jackets and sunglasses. Seriously, this girl has  a lot of outerwear. Her favorite Pinckney Bend product is Apple Ambush because it is, as she says, "fall in a glass". Trust us, this girl loves herself some spooky season.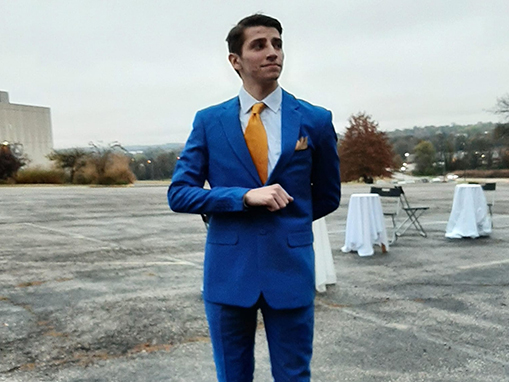 Andrew Carter
Distillery Tasting Associate/Elbows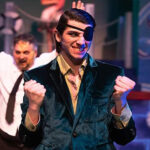 Andrew Carter does many things but is known by more names. Andrew, Carter, Elbows, Forky – no matter the name Andrew is game. Andrew has experience in hospitality, customer service, D&D, Rubik's Cubes, bowling alleys and not fitting into regular-sized gloves. Andrew brings a youthful perspective and inquisitive attitude to Pinckney Bend.
Break the Ice with Andrew
Andrew wasn't here when we did the video series but if we had to come up with an 80s persona for him it would be the D&D kid. That's because he's really into D&D. He also can solve a Rubik's cube in under 2 minutes and watches competitive Barber Shop…no really he does. Andrew's tasting style is theatrical, dramatic and a helluva lot of fun. Andrew has a long history of community theater work and is regionally famous.
We have also included a long-running inside joke that every, single Tuesday is Andrew's birthday. You can check the website to see if today is currently his birthday and how old he is – as you can see this joke has been going on a long time. Andrew's two favorite products are the Apple Ambush and the Tonic syrup. We think because he's in his twenties but it's hard to argue.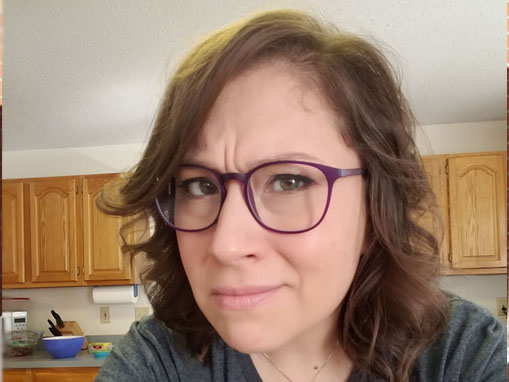 Petra Engemann
Spirit Guide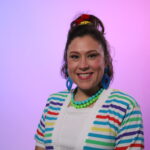 Petra is a graduate of Southern Illinois University Edwardsville, Missouri Baptist University Graduate School, and has various smart-sounding certifications. She is Pinckney Bend's longest-standing weekend warrior, having started her tour of duty in May 2014. Between her career in special education, parenting, and wife-ing, she still finds the time and energy to put in shifts in The Tasting Room… and loves every minute of it! Working at The Still has given her the opportunity to meet some amazing people, learn some interesting things, and sling some delicious spirits. And T-shirts. So. Many.  T-shirts.
Break the Ice with Petra
Petra is what we basically call our Part-time Lifer. Petra prides herself on working behind the scenes and offers moral support to her emotionally stunted co-workers. With more degrees than we care to list (no, we didn't list them all above either), she loves to make sure we….and you…know how smart she is. Just ask Tara, they have been friends for over 40 years now. Her brother, Mateo, may disagree.
Petra, P, Petey, P-flo (whatever you want to call her) is our resident 'mean girl', but in a good way. Her 80s persona is just her with a heavier valley girl accent. She has an incredible ability to insult someone and they laugh and thank her as they hand her tips. She is a certified wedding officiant and has gotten free trips because of it. Her signature cocktail is a MO Cosmo made with Pinckney Bend Corn Whiskey enjoyed on a moonlit gondola. No, we did not make that part up.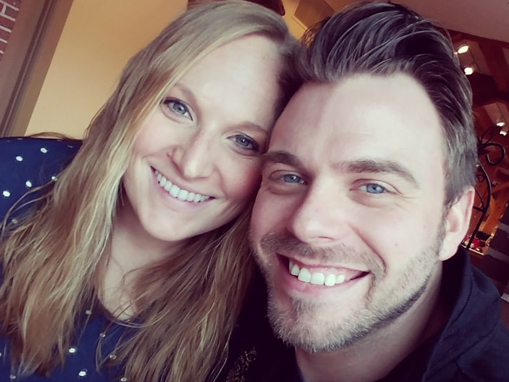 Jordan Hurt
Spirit Guide
Jordan is in the banking industry so it's redundant to say he enjoys a good story and a good cocktail. But we did anyway. Jordan has over 12 years in direct consumer service and sales. You can find Jordan in the tasting room being loud and enjoying all of our new friends who come through the door. Jordan is proof that persistence and never going away can create friendships. When he's not excessively hanging around, he enjoys playing the guitar, building scale model airplanes and reading about history.  Jordan is pictured with his lady-friend Sarah.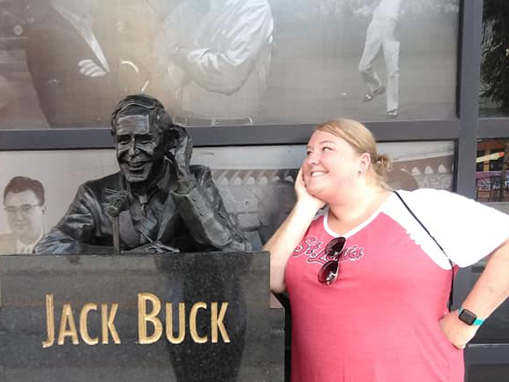 Crystal Pratt
Spirit Guide
Crystal was going to join us the weekend we closed for Covid-19 in 2020. We are so glad that we she held out and joined us as a weekend warrior. Crystal studied at UMKC and Southeast Missouri State University. She has a degree in Music Education and teaches music in the Washington School District.  Crystal is up for anything and can usually be heard saying "sure". She loves music, traveling and her puppy.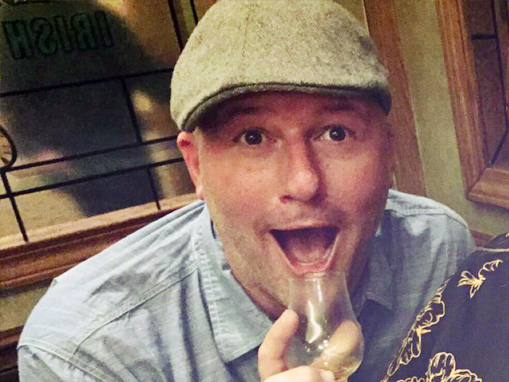 Chad Grief Wettenhall
Spirit Guide
Chad Greife-Wetenhall is proud to be a weekend Warrior for Pinckney Bend. He has been a bartender or cocktail server all over the world. He has bartended in Las Vegas, Portland, Indianapolis, St. Louis, and all over Australia. His full-time job is as an Art Teacher at Washington School District. He has his masters degree in Studio Art and during his spare time he loves performing on stage at East Central College. Chad and his partner Scott are the proud co-owners of The River Siren's Hotel in Washington, MO.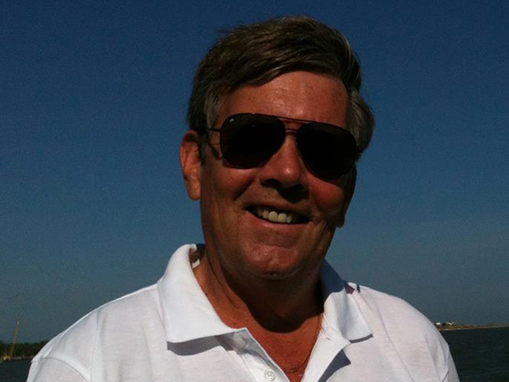 Jerry Meyer
Founding Partner
Jerry graduated from the University of Wisconsin-Madison before joining the United States Air Force where he gained the rank of Lieutenant Colonel. He flew for several commercial airlines before retiring. As a founding partner, Jerry is always eager to lend his palette in helping to develop new flavor profiles.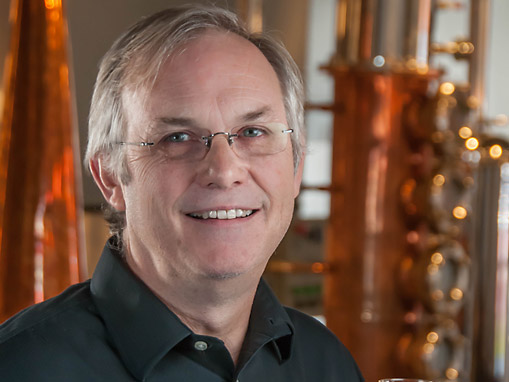 Tom Anderson
Founding Partner
After completing his Bachelor of Arts in Business Management from Columbia College, Tom continued his education in biochemistry and molecular biology. He graduated with a Bachelor of Science from the University of Missouri-Columbia. Tom long held a passion for home-brewing, which lead to his eventual distilling of spirits. As partner and Master Distiller, he has developed the flavor profiles for all our award-winning spirits.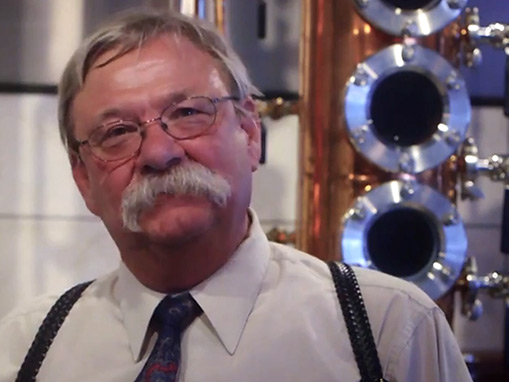 Ralph Haynes
Founding Partner
Ralph Haynes owned and operated a creative services agency for 30 years. He holds a BA in History from Blackburn College and a MA in Communications from Govenors State University, both in Illinois. He has served in the US Peace Corps in Liberia and West Africa where he continues to partner with local entrepreneurs in developing a variety of small businesses. Ralph has long held a passion for quality spirits.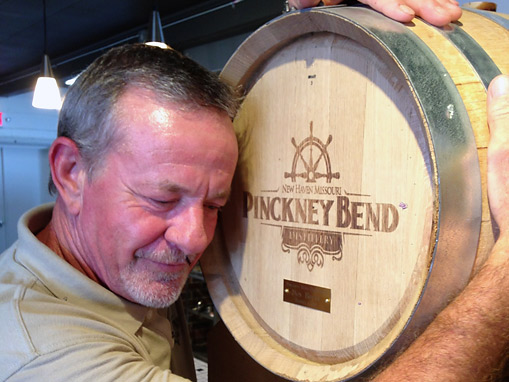 Don Bolte
Retired 2020
Don handled much of the early day to day distilling, blending, bottling and barrel maintenance. He was an avid home brewer and was a long-time member of the New Haven Brew Club. Don owned and operated his own construction business for over 30 years and was integral in remodeling and retrofitting most of our buildings and equipment.
Don retired the fall of 2020 and enjoys his horses, his pool and his grand kids.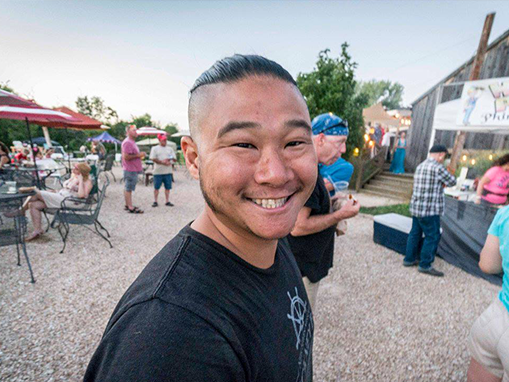 JT Mosley
Left 2021
JT, spent 10 years with us here at Pinckney Bend. He was one of the 'first four' and was involved in every aspect of the distillery. He has taken his long and varied retail and production experience onto the next opportunity and we know he will bring them much needed energy, as he did here.
As far as we know he still enjoys food, woodworking and being outdoors, not necessarily in that order.
Break the Ice with JT
JT is our main batcher and blender. He is a perfect cross between an exhibitionist and a hermit. If that sounds confusing, the answer is yes. He loves to entertain, and his ideal tasting would consist of the entire group purchasing a beverage on the patio.
JT's 80s persona, is actually just him in a sweatband. A couple of fun facts about JT; he is wilderness first aid certified, and does not drink alcohol. He is a fairly new first-time dad and LOVES babies, which is good because they speak is language. He can often be found befriending and befuddling telemarketers on his lunch break.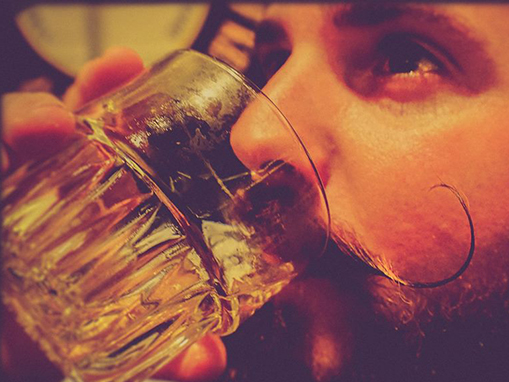 Catlyn Miller
Left 2022
Catlyn was with us for the first ten years and was part of everything from the assembly of the first 27 gallon still to the installation of a 2 15BBL Uni Tanks for canning. He was instrumental in getting us through those first ten years and we are so excited to seem him take his years in service, automotive technology and curious nature to a new position closure to his home and his beloved family. We know he will bring his inquisitive nature to any and all things, as well as a few dad jokes.
As far as we know he still enjoys making jerky, pickling things that maybe shouldn't be and building his chicken coop. He is a proud father and husband to a growing family and we are so excited his new opportunities brings with it more time to watch them grow.
Break the Ice with Cat
Meet our main Whiskey Distiller – Catlyn, also known as Cat. He is in a category all his own. He is essential to producing all of our amazing whiskies, from mash to barreling. He spends a lot of time researching equipment and processes to make better use of everyone's time. He loves tinkering and figuring out how something can be turned into another something.
Cat's ideal tasting would be a packed bar where everyone was just there to have fun.He would love to host a tasting for Chris Farley. In his free time he enjoys making jerky and pickling veggies – which he often shares with the team. His signature cocktail you ask? A free one.
Everything in distilling takes time. Small businesses require extra effort. As much as friendship is at the core of our business, love is at the root of friendship. We want to publicly thanks our significant others for their sacrifices in our pursuits. We know we work long hours, at weird times and won't shut up about what we do. And you all lovingly put up with it. To our Whiskey Widows, your support and love are the backbone of this company. So Thank you Eric, Lesley, Sydney, Rebecca, Luke, Sarah, Scott, Karen, Kate and Pat. 
Don't Be Shy. Get In Touch.
Send us an inquiry and we will get back to you as soon as we can! Or, (even better) come visit our distillery for a tour and product tasting.