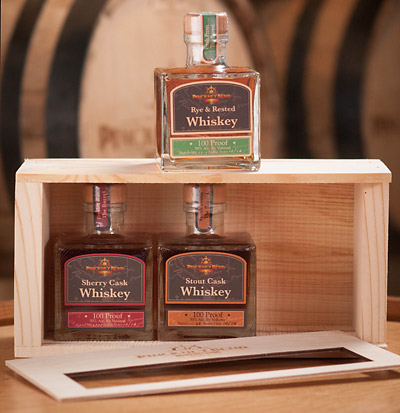 Our 200ml Cask Series Whiskey
We have a select group of specialty finished whiskeys. They all begin with an idea and are created or finished in unique styles. Once they're gone, you'll have to wait for the next idea.

2015 SFWS Competition gold medal winner: PB Sherry Cask Whiskey
Cask Series Whiskeys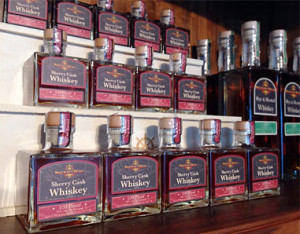 One of the most exciting aspects of craft distilling is the freedom to innovate. Pinckney Bend Cask Series Whiskies are born from this reasoning.
Some of them start as Rested American Whiskey, after a year in new and second use 15 gallon Missouri White Oak barrels, some of these whiskies are then finished for up to a year in a variety of wine and ale casks. The results are nothing short of amazing. Other whiskies are a variation of grain and styles. All our 200ml expressions are made in small quantities, bottled in 200mL bottles and are generally available only at the distillery.
Port Cask finish
After a year in new oak, this whiskey is then finished in a port barrel. We've used barrels from Stone Hill Winery in Hermann, MO and ones from Portugal. A true dessert whiskey with a heavier mouth-feel and heavy tawny notes. Our American whiskey is made from corn, and finished in a traditional Scottish style. Each port expression is different and entirely unique.
Sherry Cask Finish
AWARD WINNER! After a year in new oak, this whiskey is then finished in an oloroso sherry cask. What results is a nuanced, long-finishing sipping whiskey. Our American whiskey is made from corn, and finished in a traditional Scottish style.
Zinfandel Cask Whiskey
After a year in new oak, this whiskey is then finished in a French oak zinfandel barrel from Peter Franus, Brandlin Vineyard on Mount Veeder, Napa Valley. The result is a heavy-bodies, spicey front that finishes exactly like a light-bodied zin.
Missouri Malt Whiskey
One of the few items we've done without corn, this ode to Irish styles starts with 100% malted barley. After 3 years in a barrel, the profile becomes wildly different than our other products. Sweet and smokey with a long finish, we look forward to seeing this guy again in the future.
Single Barrel Distiller's Reserve
In collecting barrel samples, we occasionally find one that is dramatically different from its peers. Our distiller calls these "Honey Barrels" and we set them aside for a special bottling. Each one tasted dramatically different, but usually have large hints of toffee or vanilla.
Rye & Rested
Rye & Rested Whiskey is a blend of 55% rye and 45% Pinckney Bend's award winning Rested American Whiskey. We've had several expressions of this rye, including a locally-grown one. The result is a unique flavor profile that accentuates the best aspects of each grain.
Our Cask Whiskeys Boxed Set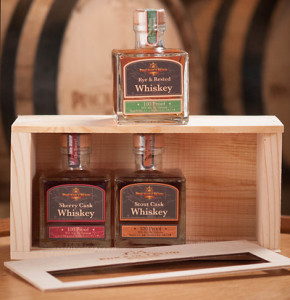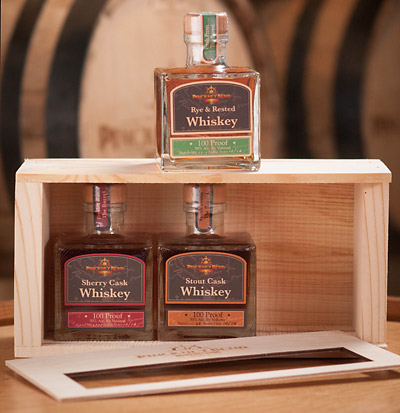 While each of our Cask Series Whiskeys is available in individual 200mL bottles at the Tasting Room, we're also offering a 3-bottle limited edition whiskey boxed set.  Choose your three current favorite, or pack it with one style, it makes a great gift for the discriminating whiskey lover, and a unique way to celebrate any occasion! Available at the distillery tasting room only.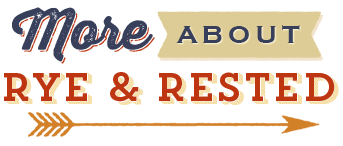 Rye History
In the late 1700s and early 1800s rye was the grain that most American whiskey was made from. As the country expanded westward, corn began to replace rye and by the end of Prohibition, rye had largely disappeared.
Flavor Profile
The spicy, sometimes described as 'peppery' notes of rye whiskey often show best when blended with the natural sweetness of whiskey made from corn. Distinctive vanillin and caramel notes add complexity and character.
Subscribe to our Newsletter
Find out the latest on what's happening at the distillery (and we'll never sell your email!)
Our Tasting Room
is Open!
Visit our distillery in New Haven and sample some outstanding spirits. Also, be the first to taste upcoming products.
Hours: open daily, Noon to 6 p.m.
Our Location: 1101 Miller St. New Haven, MO