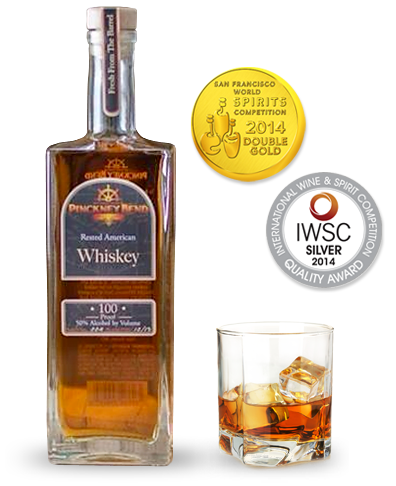 Rested American Whiskey
The secret to our distinctive flavor? Excellent craftsmanship, and a climate-controlled barrel house using small Missouri white oak barrels. You will taste the difference.
Pot Distilled From
American Grain
Pinckney Bend Rested Whiskey is made from American-grown grain; 95% corn and 5% rye. It comes off the still 160 proof, and is barreled at 117 proof.
Hand Crafted
in Small Batches
Pinckney Bend Rested American Whiskey is aged for one year in a 15 gallon, #3 charred, Missouri white oak barrels. This whiskey experiences a seismic event every 40 minutes. It's called the Missouri Pacific Railroad — we are only 300 feet from the tracks.
International
Medal Winner
Pinckney Bend Rested Whiskey was awarded a Double Gold medal at the 2014 San Francisco International Wine & Spirits Competition and a Silver at the London International Wine & Spirits Competition.
Where to Buy
Distributors can be found on our "Where to Buy" page. If you happen to be in our neck of the woods, you can purchase at our distillery and visit our tasting room!
---
What Our Customers Are Saying
Don't just take it from us, let our customers do the talking!
"This is the REAL Deal…Stopped while traveling from Southern California…this is TRUE sipping whiskey"
Jerry H, Temecula, California
"Pinckney Bend Rested American Whiskey received a double gold medal, which is remarkable given it is a craft distillery producing a corn whiskey that is aged only briefly… all of these are often strikes with the critics. In this case, the whiskey was recognized as one of the best."
Neal MacDonald
"…Invigorating and very warm at the end. There are strong notes of wood (with lots of character and body to them, like a good quality Bourbon), followed by a warmer version of the corn note from before…"
Mrs. B.
Subscribe to our Newsletter
Find out the latest on what's happening at the distillery (and we'll never sell your email!)
Sign Me Up
Our Tasting Room
is Open!
Visit our distillery in New Haven and sample some outstanding spirits. Also, be the first to taste upcoming products.
Hours: Open daily, Noon to 6 p.m.
Our Location: 1101 Miller St. New Haven, MO