Captures Two Medals at International Competition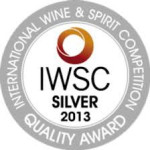 Pinckney Bend Distillery in New Haven MO was awarded two medals at the prestigious International Wine & Spirits Competition (IWSC) in London.  A Silver Medal was awarded to the distillery's Rested American Whiskey, and a Bronze Medal to its American Gin.
IWSC is the oldest and most respected spirits competition in the world, drawing entrants from over 90 countries. All judges are industry professionals, and only a fraction of the entrants survive its tough testing, tasting and evaluation process.
Ralph Haynes, the distillery's V.P. of Marketing said, "The IWSC in London is like the World Cup of spirits competitions. For small craft distillers like Pinckney Bend, winning a medal at this venue gives us a rare chance to position ourselves on a world stage, in the company of the most respected spirit brands on the planet".
Master Distiller Tom Anderson said, "We make Missouri Whiskey, aged in Missouri Oak.  Wood is the magic of whiskey, and our barrels are hand made only 40 miles from the distillery. We produced the whiskey, but there are a lot of people who own a piece of this medal."
Regarding the Bronze Medal awarded to Pinckney Bend's American Gin, company President Jerry Meyer said, "London is the gin capitol of the world, and a very tough category to compete in. We were the only American gin to win a bronze medal, and we are very proud of that."
Pinckney Bend spirits can be sampled at the distillery tasting room in Downtown New Haven MO, Thursdays thru Monday, from noon until 6:00PM.
[fsb-social-bar facebook="true" twitter="true" google="true"]